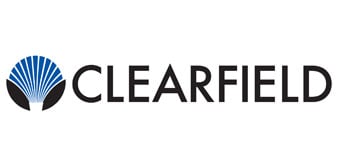 Clearfield (NASDAQ:CLFD) announced its quarterly earnings data on Thursday. The communications equipment provider reported $0.14 earnings per share (EPS) for the quarter, topping the consensus estimate of $0.11 by $0.03, Fidelity Earnings reports. The business had revenue of $23.97 million for the quarter, compared to the consensus estimate of $23.65 million. Clearfield had a net margin of 5.46% and a return on equity of 6.43%.
CLFD traded up $0.13 during trading on Friday, reaching $12.39. 17,600 shares of the company's stock were exchanged, compared to its average volume of 24,135. The company has a market capitalization of $168.33 million, a P/E ratio of 38.72 and a beta of 1.50. Clearfield has a fifty-two week low of $8.41 and a fifty-two week high of $16.75. The business has a 50 day moving average price of $12.13 and a 200 day moving average price of $12.80.
A number of equities research analysts have weighed in on CLFD shares. Roth Capital started coverage on shares of Clearfield in a research note on Wednesday, August 21st. They set a "buy" rating and a $19.00 price target on the stock. Northland Securities reiterated a "buy" rating and set a $17.00 price target on shares of Clearfield in a research note on Friday, July 26th. Two research analysts have rated the stock with a hold rating and two have assigned a buy rating to the company's stock. Clearfield presently has a consensus rating of "Buy" and an average price target of $16.33.
About Clearfield
Clearfield, Inc manufactures, markets, and sells standard and custom passive connectivity products to the fiber-to-the-premises, enterprises, and original equipment manufacturers markets in the United States and internationally. The company offers FieldSmart, a series of panels, cabinets, wall boxes, and other enclosures.
Further Reading: Support Level